ECTEG course - Vista & Windows 7 Forensics

Title: Vista & Windows 7 Forensics
Year: Jan 2010 – Version 1.0
Duration: 1 week

Course Aim

To provide students with forensic sound knowledge about Microsoft Windows Vista regarding the installation and configuration as a forensic platform, the aspects of Vista live forensics and the investigation of Vista data carrier.
Prerequisites


Advanced technical knowledge is assumed and the students should have a good understanding of computer forensics and forensic software applications (e.g. X-Ways Forensics, FTK, EnCase, TSK).
It is essential that students have a good working knowledge of the English language as the lessons will be delivered in English. A sample from the course notes will be sent prior to the course for the students to self-assess their English language ability.
Students will need to be able to understand and communicate in English.
Small list of agenda / topics / main points

By the end of this course the students will be able to:
Install and configure a Vista platform for forensic computing purposes
Run through live data forensics on Vista machines
../.. undisclosed topics
Use the power of the command line interface to acquire volatile data
If you are interested in applying for these courses please take a look at the
application page
for more information.
About ECTEG courses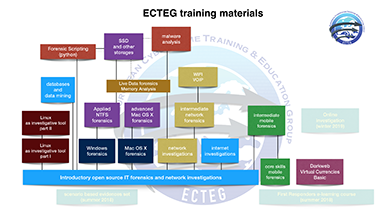 All courses that have been developed for ECTEG are freely available for law enforcement organisations. They include all necessary slides as well as manuals for trainers and students. The courses include the following properties:
Expertise: Each course is designed by a team of subject matter experts.
Internationality: All courses are developed for an international audience.
Tested: All courses have at least run once in a pilot training.