ECTEG course - Python programming for investigators

Title: Python Programming for Investigators
Year: December 2015 - Version 1.0
Duration: 1 week (post pre-read)

Course Aim

The aim of this course is to provide participants with the skills required to develop their own Python programs for automating forensic processes and gathering open source intelligence.
Prerequisites

This course is intended for Law Enforcement Investigators who have no knowledge of Python programming. In fact it has been designed for participants who have no experience of using any type of computer programming language at all.

Since it would be difficult to address anything more than the fundamental concepts of programming during a 5-day course, the training also consists of an e-learning component that has been designed to introduce these fundamental topics.

Therefore, participants who undertake the 5 day "in-class" training course should complete this pre-read material and already be able to develop basic Python scripts. The benefit of this approach is that more time can be spent in class developing more complex programs that can be used to conduct forensic tasks and automate investigative procedures.

Students will need to be able to understand and communicate in English.
Small list of agenda / topics / main points

Utilize fundamental programming concepts such as datatypes, user interaction, selection, iteration, file read/write operations etc.
Create scripts that can access and analyse SQLite databases
Develop complex regular expressions in Python for tasks such as log file parsing
Read and write Unicode data for tasks such as using Python to extract text from docx files
Use Python to extend the functionality of existing forensic tools
Request and download website content and monitor websites for changes
Automate the gathering and visualisation of open source information from the Internet
If you are interested in applying for these courses please see take a look at the
application page
for more information.
About ECTEG courses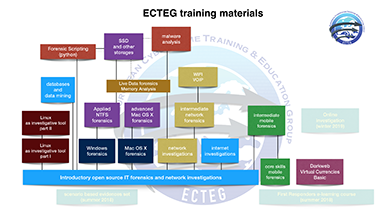 All courses that have been developed for ECTEG are freely available for law enforcement organisations. They include all necessary slides as well as manuals for trainers and students. The courses include the following properties:
Expertise: Each course is designed by a team of subject matter experts.
Internationality: All courses are developed for an international audience.
Tested: All courses have at least run once in a pilot training.