ECTEG course - Network Investigations

Title: Network Investigations
Year: Apr 2009 – Version 2.0
Duration: 1 week

Course Aim

This course is aimed at providing students with the knowledge and tools necessary to investigate an incident related to or facilitated by the use of networking technology. Unlike investigations of computer data, where evidence can usually be found on the disk or other associated storage media, network analysis is more concerned with network events and topography to discover or infer what happened and who is responsible.

This course will give students the general and practical knowledge of Networks at an intermediate level using the latest best practice, technologies and techniques available to Law Enforcement specialists.
Prerequisites

Ideally students should have successfully completed the ECTEG. Introductory IT Forensics & Network Investigations course, or have some other experience or previous training in network investigations.

To enable students to fully participate in the discussions relating to legislation, it is recommended that prior to attendance students undertake research in respect of their own country's legislation and how it may impact their investigations.

Students will need to be able to understand and communicate in English.
Small list of agenda / topics / main points

Topics include:
TCP/IP Review
Net Analysis
…/… undisclosed topics
If you are interested in applying for these courses please take a look at the
application page
for more information.
About ECTEG courses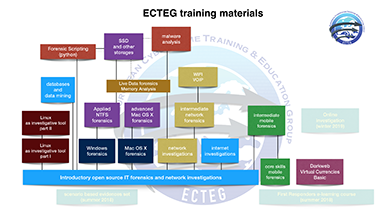 All courses that have been developed for ECTEG are freely available for law enforcement organisations. They include all necessary slides as well as manuals for trainers and students. The courses include the following properties:
Expertise: Each course is designed by a team of subject matter experts.
Internationality: All courses are developed for an international audience.
Tested: All courses have at least run once in a pilot training.