ECTEG course - Core Skills in Mobile Phone Forensics

Title: Core Skills in Mobile Phone Forensics
Year: Mar 2009 – Version 2.0
Duration: 1 week

Course Aim

The aim of this course is to provide new or existing mobile phone examiners with exposure to, and guidance on the use of appropriate forensic tools and procedures. It will also equip them with an understanding on how GSM/3G networks operate. This will enable them to better assemble evidence for court that is clear and supportive of evidential needs. Training will encompass latest good practice, technologies and techniques available to Law Enforcement specialists.
Prerequisites

Ideally students should have successfully completed the ECTEG Introductory IT Forensics & Network Investigations course. Students are expected to have successfully participated in basic training for high tech crime investigators.

Students will need to be able to understand and communicate in English.
Small list of agenda / topics / main points

Content includes:
Phone Forensic Challenges
Seizure and Handling
Introduction to Mobile Devices and their Components
Introduction to GSM & 3G Mobile Networks
Examination Process Overview
SIM/USIM
Battery Problems
Memory Card Theory
Reporting
Overcoming Common Problems
Hex Tutorial
If you are interested in applying for these courses please take a look at the
application page
for more information.
About ECTEG courses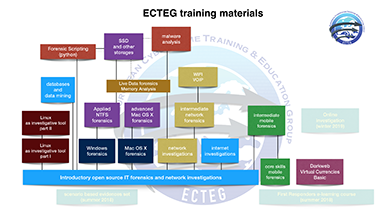 All courses that have been developed for ECTEG are freely available for law enforcement organisations. They include all necessary slides as well as manuals for trainers and students. The courses include the following properties:
Expertise: Each course is designed by a team of subject matter experts.
Internationality: All courses are developed for an international audience.
Tested: All courses have at least run once in a pilot training.