ECTEG course - Malware Investigations

Title: Malware Investigations
Year: December 2015 - Version 1.0
Duration: 1 week (post pre-read)

Course Aim

This course is intended for Law Enforcement Investigators who have a good knowledge of Computer Networking and the Microsoft Windows OS architecture. This course does not address reverse engineering and the disassembly of binary files. The objective is to obtain information from the malware analysis process that will help locate criminals and their infrastructure.
Prerequisites

A basic knowledge of Computer Networking and the MS Windows architecture is required. This is enhanced and supplemented with a short e-learning component introducing the malware underground. All practical analysis will occur during the 5-day "in-class" training period. This enables students to learn practical analysis techniques under supervision and contain malware to a secure classroom network.

Students will need to be able to understand and communicate in English.
Small list of agenda / topics / main points

Create malware from a construction kit and deploy malware in a controlled lab environment
Demonstrate malware extraction techniques to identify infected machines
Apply the malware analysis process to a malware sample
Document the malware analysis process for evidential purposes
Determine the botnet architecture of a malware sample from network analysis
Explain the botnet takedown methodology for each architecture type
Build a sinkhole server for deployment in a botnet takedown
Utilise OSINT techniques to identify criminals and enumerate their infrastructure
If you are interested in applying for these courses please see take a look at the
application page
for more information.
About ECTEG courses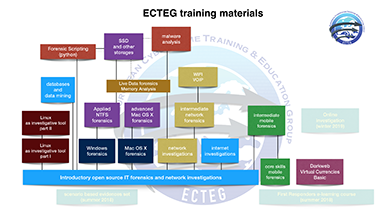 All courses that have been developed for ECTEG are freely available for law enforcement organisations. They include all necessary slides as well as manuals for trainers and students. The courses include the following properties:
Expertise: Each course is designed by a team of subject matter experts.
Internationality: All courses are developed for an international audience.
Tested: All courses have at least run once in a pilot training.