ECTEG course - Live Data Forensics

Title: Live Data Forensics
Year: December 2015 - Version 1.0
Duration: 1 week (post pre-read)

Course Aim

The aim of this course is to provide an introduction to Live Data Forensics and the use of Live Forensics investigative techniques.
Prerequisites

This course is an Intermediate level module and relates to Forensic Computing. The target student group would include current practitioners in the field of live data forensics who have previously attended and passed the ECTEG Introductory IT Forensics & Network Investigations course or similar training.

A number of short pre-read modules must be completed before participating in the 5-day "in-class" training. Topics include Using Virtual Machines, Memory Analysis, Windows Command-Line Interface, Documenting & Reporting and Conducting Searches on Scene.

Students will need to be able to understand and communicate in English.
Small list of agenda / topics / main points

Create and Test a Live Data Forensics toolkit
Acquire evidence from virtual machines
Perform Live Data Acquisition, including disk imaging and file copying
Understand the importance of implementing strategies and methodologies for Live Response
Configure and Deploy Triage tools for live forensics
Understand how evidence can be acquired from Remote and Cloud Storage
Conduct Memory Acquisition and perform basic Memory Analysis
If you are interested in applying for these courses please see take a look at the
application page
for more information.
About ECTEG courses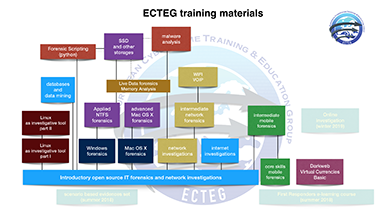 All courses that have been developed for ECTEG are freely available for law enforcement organisations. They include all necessary slides as well as manuals for trainers and students. The courses include the following properties:
Expertise: Each course is designed by a team of subject matter experts.
Internationality: All courses are developed for an international audience.
Tested: All courses have at least run once in a pilot training.