ECTEG course - Linux as an Investigative Tool, part 2

Title: Linux as an Investigative Tool, part 2
Year: Jan 2010 – Version 3.0
Duration: 1 Week

Course Aim

This is the second part of a two-part course encompassing a Basic Linux component and a Linux Forensic Application component.

The aim of this course is to build on the skills acquired in Linux Part One. This second part will concentrate on the forensic application of Linux and is designed to equip forensic examiners with the in-depth knowledge necessary to recover and produce evidence from seized computers using the Linux operating system. This will also enable them to better assemble evidence for court that is clear and supportive of evidential needs. Training will encompass latest best practice, technologies and techniques available to Law Enforcement specialists.
Prerequisites

Students are expected to have successfully participated in basic training for High Tech Crime Investigators. They will have normally completed the ECTEG Introductory IT Forensics and Network Investigations Course.

It is also highly recommended that students have also completed the ECTEG Linux as an Investigative Tool – Part One. Prior to commencement of the course they should ensure that they are familiar with the following:
Basic Linux shell knowledge – commands such as cd, ls, man etc
Installing applications on Linux from tar files (.tar, .tar.gz, .tgz) using make command
Installing applications on Linux using dpkg (.deb files)
Students will need to be able to understand and communicate in English.
Small list of agenda / topics / main points


Forensic File Formats
String Search
Information Gathering & Acquisition Tools
Evidence Acquisition Tools; Keyword Search
Use of the File System; Undelete Files
Timeline, File Headers, Finding Pictures, Finding Metadata
Script Basics,
…/… undisclosed topics
If you are interested in applying for these courses please take a look at the
application page
for more information.
About ECTEG courses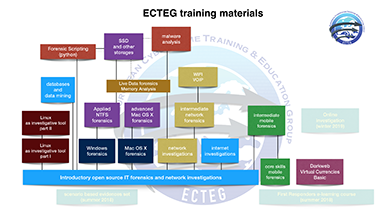 All courses that have been developed for ECTEG are freely available for law enforcement organisations. They include all necessary slides as well as manuals for trainers and students. The courses include the following properties:
Expertise: Each course is designed by a team of subject matter experts.
Internationality: All courses are developed for an international audience.
Tested: All courses have at least run once in a pilot training.