ECTEG course - Linux as an Investigative Tool, part 1

Title: Linux as an Investigative Tool, part 1
Year: Jan 2010 – Version 1.0
Duration: 1 Week (It is recommended that at least two months of guided practice follows completion of this week.)

Course Aim


Install Linux
Use the Linux tools
Use the Linux tools in a simple case study
Prerequisites

Trainers should go through the process of installation and exercise completion themselves prior to the course.

Students will need to be able to understand and communicate in English.
Small list of agenda / topics / main points


Session One - Installation and Introduction
Session Two – Introduction and Installation – Part Two
Session Three – Linux Basic Networking
Session Four – Basic Linux Commands
Session Five – Standard Linux Tools
Session Six – Standard Linux Tools – System Admin Perspective
Session Seven – Standard Linux Tools – Working with Hashing
…/…
If you are interested in applying for these courses please take a look at the
application page
for more information.
About ECTEG courses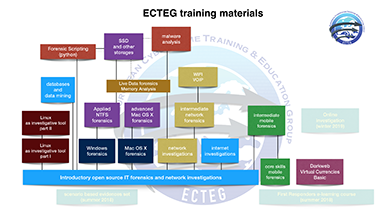 All courses that have been developed for ECTEG are freely available for law enforcement organisations. They include all necessary slides as well as manuals for trainers and students. The courses include the following properties:
Expertise: Each course is designed by a team of subject matter experts.
Internationality: All courses are developed for an international audience.
Tested: All courses have at least run once in a pilot training.